Welcome to The Printed Maps of Devon

In 1996 Francis Bennett and myself published our first book on the maps of Devon and listed all known maps printed
between 1575 and 183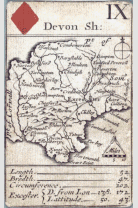 7 showing the whole of the county of Devon on either one or two sheets. Although this omitted Ordnance Survey sheets and those atlases designed on a sheet basis, this meant that we were still able to list 117 different maps along with their sources and provide information on the people behind them.
This site is the internet version of the revised Second Edition of The Printed Maps of Devon.
Since the original work was published (now out of print) more maps have come to light and new information discovered so that the present work includes a total of 119 different maps incorporating over 300 states (i.e. including variations) and references nearly 1200 sources of atlases and maps. These are all included here in this site. Furthermore, as the authors are no longer restricted to the A4 format, we have been able to include extra information on many of these issues.
Interested users of this site are invited to contribute new information and new states or even new maps. Moreover, in the course of our researches we may have omitted something, overlooked a source or falsely interpreted our notes. We apologise for any errors and welcome correspondence and corrections from fellow enthusiasts and collectors.
Please note that the sequel to Printed Maps is now available on-line. The Victorian Maps of Devon in an up-to-date revised second state can now be accessed by clicking this link.
Kit Batten

The SEARCH function below will help to locate pages.
This search engine also finds parts of words so use full words if possible.
(Please ignore the "Ad" Founds, in the Searchresults).